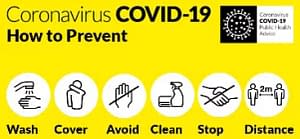 Level 5 Covid-19 Regulations in our Church
All Masses are without congregations at this time.
Masses can be viewed on www.mcnmedia.com  and are also available on 106.5FM locally.
Day Chapel will be open for private prayer from 1: 30 pm – 7: 00 pm each day.
Funerals are limited to 10 persons in the church.
Points to remember when visiting the Church for private prayer
Always Maintain –       2m (6/7 feet) distance from others outside or your household, while you are in your seats and as you come and go from the church building and grounds.
Always Sanitise –         On entry and exit from the church building and before and after lighting candles please sanitise your hands.  (Use wipes provided and ensure your hands are dry from the sanitiser before lighting candles)
Always Wear Mask –   When visiting the church for private prayer.
It is VERY IMPORTANT to also remember:
Remain safe at home:
If your health is vulnerable or you feel unsure about coming out 
If you have Covid-19 or have had contact with someone who has
If you are awaiting results of a Covid-19 test
If you have a flu or cold like symptoms